A medical director of sustainability was hired into a newly created position, and two new sustainability analysts were brought on board by the health system to support the work of the sustainability officer and sustainability director.
Together, they worked on a $50,000 UCSF Caring Wisely grant, eliminating the use of the gas with the highest global warming potential and reducing the inhaled anesthetics fresh gas flow rate, resulting in about a 15% reduction in scope 1 emissions. On the waste front, they conducted over 200 internal waste audits and held several electronic waste collection events, gathering over 6,000 pounds of e-waste.
COVID-19 impacted fiscal year 2020–21 sustainability performance at UCSF Health in uneven ways. For example, despite UCSF Health's switch to washable isolation gowns, total waste rose due to the volume of waste from single-use personal protective equipment. On the climate and energy front, with pandemic-related delays in energy efficiency projects, UCSF Health reduced its energy use intensity by only 1%, falling short of the targeted 2% reduction. On the other hand, due to the adoption of telehealth, 22,000 tons of CO2e from patient travel emissions were eliminated. UCSF also purchased carbon-free electricity, provided by UC's Clean Power program, for many of its buildings, including the Mission Bay hospitals. Additionally, UCSF Health increased its own production of clean energy by installing a 250-kilowatt solar array on the Gateway Clinic Building at Mission Bay.

ENERGY USE INTENSITY (EUI)
UCSF Health saw a decrease in its EUI in the calendar year 2020.
FOOD
Although UCSF Health's overall spend on both food and beverages, as well as sustainable food and beverages, decreased in fiscal year 2020–21, its cafeterias continued to operate and provide sustainable food options.
Green building
UCSF Health has 6 LEED certifications.
3 Gold, 2 Silver, 1 Certified

Total number of LEED certifications
WATEr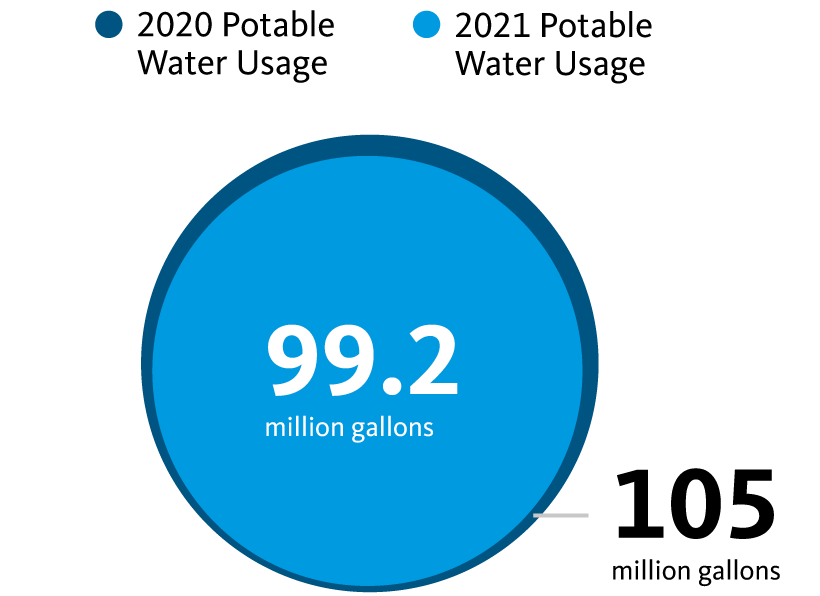 In fiscal year 2020–21, UCSF Health experienced a decrease in growth-adjusted potable water use by about 34% compared to its baseline of 342 gallons per adjusted patient day. Water use went down because of significant reduction in outpatient clinical services due to COVID-19. This year's report illustrates the difference in water consumption between fiscal year 2019–20 and fiscal year 2020–21 instead of measuring progress toward the 2025 goal.
ZERO WASTE – Generation
Despite the increased landfill volume generated due to COVID-19, the UCSF Health community remained engaged in waste sorting and maintained a consistent recycling rate. Several e-waste events were held, and a contract with Engie Impact initiated waste audits across UCSF Health's three main campuses. Compost collection in hospital cafeterias has remained constant the past two years.
Combined Data
Progress on the following policy areas for this Health System is reported by the campus location: