UC San Diego Health achieved the Practice Greenhealth Partner for Change Award for the third consecutive year, demonstrating continuous improvement in sustainability programs.
With a 40% waste diversion rate, the health system reduced landfill waste by 6.5% year over year, reduced total waste from 30 pounds to 25 pounds per adjusted patient day and reduced regulated medical waste from 401 to 301 tons, a 25% reduction. In addition, a new contract was signed for controlled substances disposal, eliminating drain disposal of these substances.
Staff in sustainability and procurement offices conducted a comprehensive review of reprocessing programs, which recycle medical equipment, and established a Reprocessing Working Group with clinical representation. With an eye toward strategic implementation and program growth, a contract was awarded with a preferred reprocessing vendor. In the past year, the collection of used items increased to 5.26 tons of materials, resulting in an overall savings of $94,000 as the health system was able to purchase these reprocessed items back at a lower cost compared to purchasing brand-new versions.
Energy-saving LED lighting was installed in Hillcrest Hospital inpatient corridors. A comprehensive utility bill analysis resulted in a net $375,000 rebate for direct access fees and $220,000 annual savings from rate changes.
Annual paper use was reduced by 4.5%, and close to $3.5 million was spent for computers, monitors, notebooks and slates, with 35% of that spend going for EPEAT certified products with life cycle impacts in energy savings, greenhouse gas reductions, waste and water reduction, and avoided toxic substances.
Patient menus were designed to focus on local, seasonal and plant-based foods. An Ornish program was started in UC San Diego Health's cafés, offering vegan or vegetarian entrées during every meal. More than 170 tons of food waste was composted in 2020, and 6.5 tons of food, with a value of $22,000, was donated to campus food pantry and local nonprofits.

Stories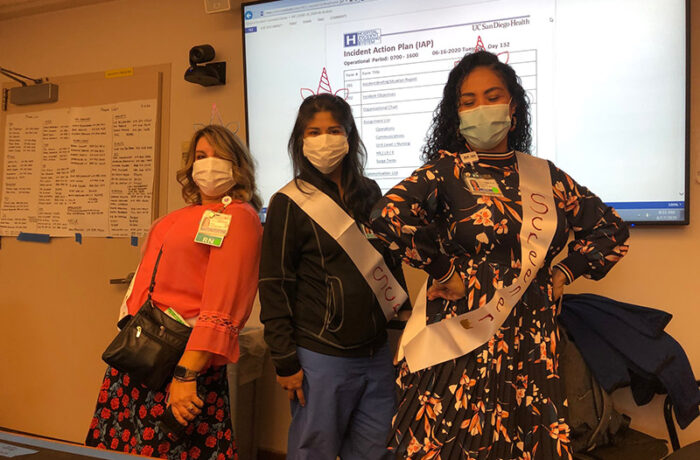 Early in the coronavirus pandemic UC San Diego Health was one of only a handful of organizations across the nation that participated in a pilot with the company Stryker Sustainability Solutions to collect and reprocess vitally needed N95 masks. Starting in March, while Stryker awaited an FDA Emergency Use Authorization (EUA), and with input from […]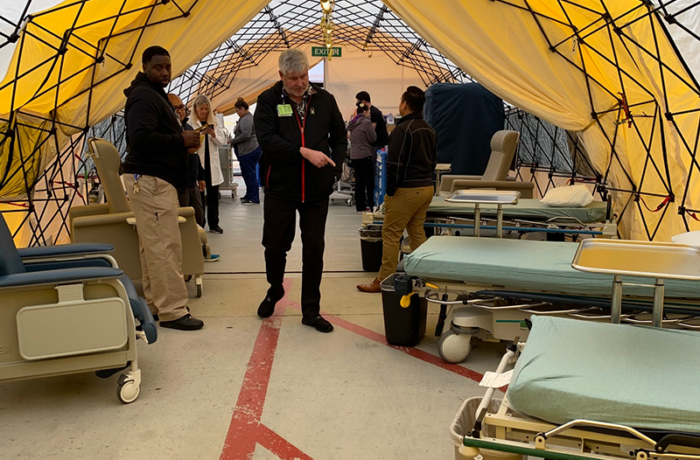 UC San Diego Health obtained a $1.44 million grant for decarbonization in hospitals, in partnership with the Electric Power Research Institute (EPRI). Of that, $720,000 will be used to purchase two High Efficiency Dehumidification Systems (HEDS) serving seven operating rooms. The HEDS will be equipped with multiple layers of UV-C irradiation; enhanced air filtration, including […]
ZERO WASTE – DIVERTED
Food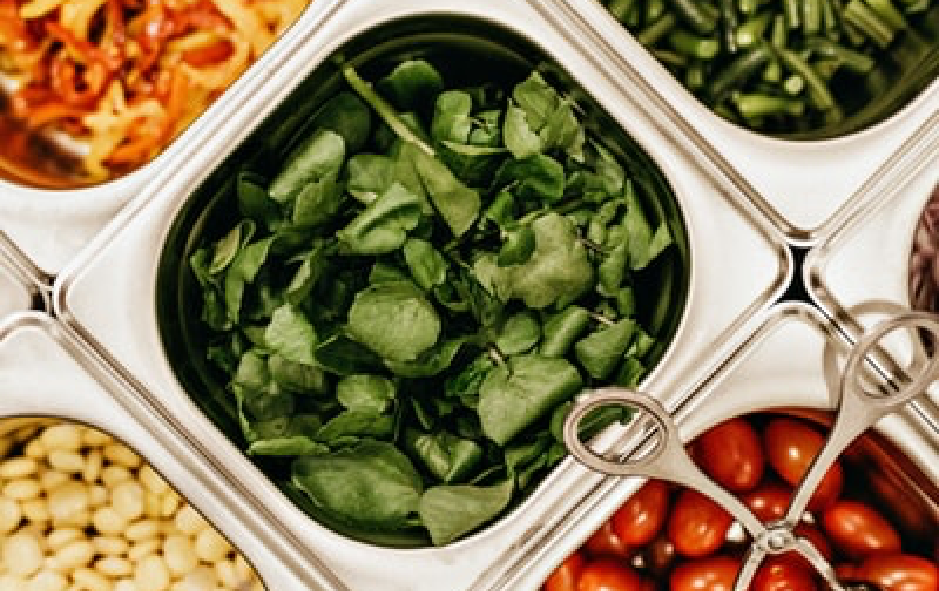 $6.5M+
total spend on food and beverages
10.6%
of food and beverage purchases met sustainability criteria in fiscal year 2019-20
UC San Diego Health continues to set ambitious goals, with a goal for 2030 of 30% spend on sustainable food and beverages.
Awards
UC San Diego Health was the proud recipient of a Practice Greenhealth Partner for Change Award in 2020.
A full list of awards is here.
Combined Data
Progress on the following policy areas for this Health System are reported by the campus location: